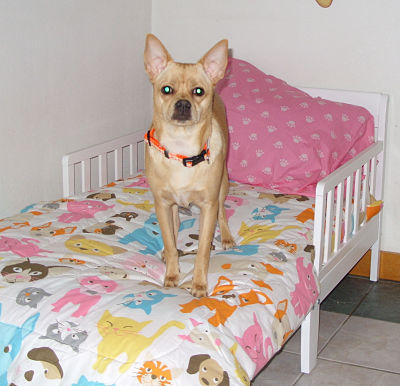 I had so much fun decorating the new suites. They include colorful and cozy bedding, and each suite is complete with a bucket of toys. Fun!
We chose "Rawley" who wanted us to play ball relentlessly. He was great at catching the ball mid-air and he gave us much pleasure during his stay with us. We were excited to discover that he is coming to see us again this month.
All the dogs love the new toddler beds in every suite
Shelby's Eden to Participate in Mega Mixer
On Thursday, May 27th at the Yucaipa Community Center, the Chamber of Commerce will hold a Mega Mixer from 5:30 p.m. to 7:00 p.m. We are thrilled to be a part of the event and have plans for a really fun display table. Included will be a "kitty litter cake". Despite it's very realistic appearance it is both edible and delicious. Samples of the cake will be served, as well as appetizers and a no host bar will be available. There will be door prizes and Shelby's Eden will offer a gift certificate for $30 in boarding services to one lucky winner. We hope to see you there, and please stop by our table and say hello.

The official opening day of the new doggy suites was May 1st, although we still have a few plans for further improvement, and are still waiting for the new curtains to arrive.